The 2019 GIS Workshop and Exhibition was organized by the Department of Geography and Rural Development, in partnership with Sam Houston State University – Department of Geography and Geology, USA. This partnership was sponsored by the Council for the Development of Social Science Research in Africa (CODESRIA) with the collaboration between the Kwame Nkrumah University of Science and Technology – Department of Geography and Rural Development, and Sam Houston State University – Department of Geography and Geology, USA. The workshop was month-long, starting from July 1 to 26, 2019. The GIS training workshop was climaxed with an exhibition which was held on July 26 on the theme, "the role of location data in socioeconomic development". The GIS Exhibition activities included: a keynote speech, a panel discussion, oral and poster presentations, presentation of certificates, and networking.
There was a total of 52 participants from diverse disciplines and industry, including planning, geography and rural development, engineering, environmental science, Ministry of Food and Agriculture, and Power Distribution Services Ghana limited (PDS). A total of eight (8) modules ran at the workshop included: Start-up GIS, GIS for Fieldwork, Basic Remote Sensing, Spatial Analysis, Raster Data Analysis, Processing of Remote Sensing Imagery, Basic Python for Geospatial Programming, and Spatial Network Analysis. Participants had hands-on experience using open source software (QGIS and SNAP) and commercial software (ESRI-ArcGIS). The workshop participants undertook poster projects based on problem-solving through teamwork which were presented at the GIS Exhibition. Certificates of completion and recognition were given to participants and resource persons respectively, together with awards for the first, second and third Best Posters presented at the GIS Exhibition.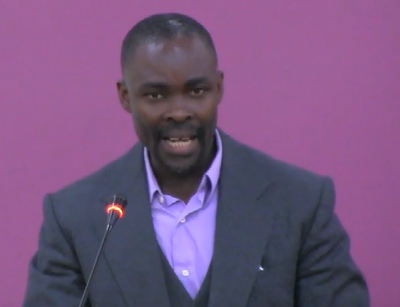 Dr. Gift Dumedah, in delivering the welcome address at the GIS Exhibition said "the event has brought together GIS users, analyst and developers towards building a common agenda for GIS use in Ghana and other parts of the world". He explained that GIS combines technology, data, and people to answer questions about our natural and man-made world. In relation to the theme of the Exhibition, he said that location data are information about the geographic position and associated description of features, things, events and activities. Location data is central to achieving the Sustainable Development Goals, as it underlies many of the pressing societal challenges such as rapid urbanization, poor waste management, crime and security, climate change, food and water security, over-exploitation of forest, oil and mineral resources. He emphasized that GIS has now become a new common language for professionals, widely required by industry as geographic information are used to power millions of decisions in almost every sector of society and government.
The Chairman, Prof. Samuel Adu-Prah applauded the GIS Workshop participants for their hard work in learning and undertaking their problem-based projects. He emphasized the critical contribution of higher education and research towards achieving the Sustainable Development Goals. He said "research, teaching, and community engagement are needed to develop new knowledge and innovations, skilled professionals, and collaborative work with all stakeholders to contribute towards local, national, and global impact". He proposed a research, teaching, and community engagement center "Center for Geospatial Technology". This Center in the University would serve as an incubator for location data to be harnessed to propel cross-discipline use towards socioeconomic development at the local and national levels. He called on the organizers to work with the University administration to make this happen.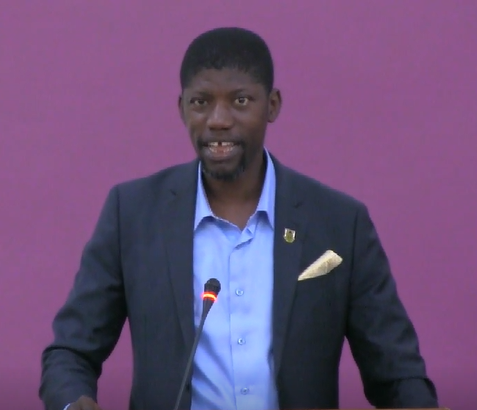 Dr. Divine Odame Appiah, who delivered the keynote address underscored the use of location data in socioeconomic development. He cited examples in settlement planning where orthophotos are often used to develop planning schemes; the Ghana Post GPS Digital Address System used to enhance postal operations and related services; and the street naming operation being undertaken by the Land Use and Spatial Planning Authority. He singled out revenue mobilization as one of the critical challenges where location data should be used to augment Government's effort in revenue collection. Finally, he emphasized that a comprehensive integration of location data into various operations including settlement planning, service delivery, infrastructure development, and revenue mobilization will speed up socioeconomic development in the country.
The Panel Discussants were drawn from a broad range of GIS expertise including Dr. Joshua Arthur — Komfo Anokye Teaching Hospital, Kumasi; Ing. Surv. Mrs. Naa Lamkai Quaye-Ballard — Building & Road Research Institute (BRRI); Mr. William Hagan Brown, CSIR — Forestry Research Institute of Ghana (FORIG); Mr. Justice Amoah – Municipal Coordinating Director, Oforikrom Municipal Assembly; and Rev. Dr. John Ayer — Geomatic Engineeering, KNUST.
Dr. Joshua Arthur talked about the use of GIS and location data in public health for disease tracking and surveillance. He shared shared a joke on the relationship between paracetamol and location, indicating the distribution of paracetamol to areas of high demand. He said location data plays a critical role in disease incidence and prevalence where the assessment of time, place and person are important in ensuring public health. He said that location data has become so important in the face of the country's Universal Health Coverage, which aims to ensure the health of all people everywhere in the country. He emphasized that GIS will help address crucial questions about how to identify disease burdens and target medical interventions. He concluded that improved location data will mean improved resource allocation and effective intervention targeting.
Ing. Surv. Mrs. Naa Lamkai Quaye-Ballard emphasized the critical role of location data for infrastructure development, particularly for the construction and built-up industry. She mentioned that the BRRI of the CSIR utilize all levels of location data acquisition technologies including Theodolites, Total Stations, Handheld and Survey GPS, and UAVs (or Drones). She said that inaccurate location data results in issues such as land disputes and that land boundary problems are widespread in the country. In the construction industry, accuracy of location data is required to be at the millimetre to centimetre level, thus careful consideration is needed in the acquisition of location data. She said UAVs hold a great potential in the acquisition of accurate, large coverage and affordable location data.
Mr. William Hagan Brown said that it is widely recognized that Ghana's forestry has been depleting at a very high rate since the 1980s, particularly linked with the introduction of the chainsaw used in the extraction of wood. Most forestry investigations have been field based usually covering geographically small areas. He said, with location data technologies such as remote sensing, data on large areas of the forest can be quickly acquired and assessed to investigate pressing issues such as deforestation and land degradation. He said that several GIS efforts are being made at FORIG, and that location data are being used to ensure that forestry products are replenished. For example, through the identification of suitable sites for nursery, seed orchards and improving plantations. He emphasized that location data will play a critical role in determining the true state of Ghana's forestry, and that GIS will facilitate efforts to assess human activities and their impact on forest, biodiversity and ecosystem services.
Mr. Justice Amoah said that the Oforikrom Municipal Assembly uses location data in their work, particularly in the planning and coordination of physical and socioeconomic developments. The preparation of layouts is a critical responsibility of the Assembly where location data is essential. He said location data are used in the identification of flood prone areas, disease areas, revenue collection, property rates and assessments. He decried the lack of collaboration among government agencies in sharing data, particularly location data. He said that there need to be a greater coordination between location data users to minimize duplication, reduce damage to infrastructure and improve the delivery of public services.
Rev. Dr. John Ayer described the role of academia in the acquisition and use of location data. He said that academia is primarily involved in training of people on the technologies for location data acquisition and the integration of geospatial data sets from different sources. He explained that academia stands at a unique position to facilitate the sharing of location data, and proposed the establishment of a Geospatial Data Clearinghouse. He emphasized that data sharing and integration is critically important to addressing several challenges relating to access of location data and harmonizing these data for socioeconomic development in the country.
Prof. Charles Marfo who delivered the closing remarks encouraged the participants to continue to work together, digest the best available evidence and ideas from all quarters, access the best available knowledge, and develop a shared understanding of the challenges ahead of us. He emphasized that the GIS forum can provide the foundation to build a local community of GIS experts, which is needed to address issues of common concern such as data sharing, local data standards, data collection campaigns, and many more. He said, there are mutual GIS initiatives that are beyond the sphere of individual experts or any single organization. This vision, he says, fits into the Chairman's remarks for the establishment of a Center for Geospatial Technology at the KNUST campus.